Crypto
Accidental data deletion and recovery: some important questions and their answers
On April 29, 2019 by Tabitha Rashed
How data recovery service works if I permanently delete a file?
If you delete a file by mistake, it is not actually "deleted" from your hard drive. Even when you empty out that recycle bin, all the data which you think gone forever, still exist on some part of the hard disk drive – at least immediately. This data can be recovered by a hard drive recovery service provider. It can seem complicated if you don't know how hard disk or operating system works. So, it is necessary to know some facts about those first.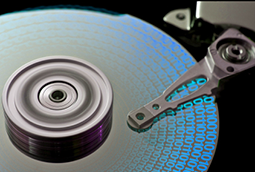 When you store any data in your hard drive, your operating system uses the file name and the location of the file to access the same. Sometimes, if enabled, a backup of the same file gets created by the OS at the same time to be stored in another part of the hard disk, as a protection against any accidental deletion of that file. However, when a file gets deleted by the conventional way like you right click on it and click "delete" – what actually gets deleted is the "reference" of that file from the OS. As the "reference" got deleted, the OS cannot find the file. Hence it shows as the file got deleted. When the fact is, that file is still stored somewhere in the hard drive, it's the OS only which thinks the file got deleted, but that's not true. Now, as the OS "thinks" the file got deleted, it thinks that the "space" which was previously occupied by that same file, is now empty and new files can be written again on that same space. Remember, it's only the OS which is thinking that the "space" is available, when actually it is not – cause that file is still there. Then, if you try to write any more data on that hard drive, OS may write the new data on that same "space" (thinking the "space" is empty), and now it can actually delete that file by overwriting with new data. Therefore, even if you have accidentally erased any data from your hard drive, there is almost 100% chance of recovering that data, provided you do not write any new data on the same hard drive.
What precautions can I take to ensure 100% data recovery?
There are few things you can do, before and after the data loss, to ensure 100% data recovery. First, every hard drive has a life. Though it depends on how frequent you delete old data and write new data on the drive. If You do not write significant data regularly, it will be fine a few years in most cases. Still, regular back up is essential, and you should perform that once in a while.
Secondly, if you don't have back up and you accidentally deleted an important file – stop using that computer immediately. Do not even keep the computer powered on even if it is doing nothing. Because, when doing nothing, a computer still does some background processing always. Therefore, immediate shut off is the only step you should take that time to ensure safe data recovery from that hard drive.
Thirdly, you should take your hard drive to a professional data recovery company like Salvage data without trying anything at home, unless you're a trained recovery technician.
Populor Tweets